"R & R" - the older generation will recognise this as what doctors used to prescription for the shell-shocked and war-weary.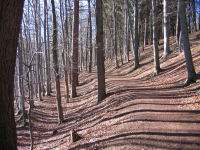 Whatever your generation, if you are looking for a short break in a busy schedule, there is much of interest here. All our webpages include a link to where to stay, how to get here and the easiest way of managing payments when you come. We will gladly pass on your requests for accommodation or outings, and, if you need other linguistic assistance, we will provide this ourselves (see our "brush up your German" page).

Follow the links below for your sort of holidays. The East English in Germany network includes people who are sure to enjoy the opportunity of sharing your interests or introducing you to new ones, and because of the liaison we can give, the language barrier is easy to overcome.


Walking



Walking is as restful here as you would like to make it. Every few kilometres one finds a welcoming inn, for not only tourists but everyone who lives here has learnt the pleasure of following footpaths (or cross-country skiing tracks when the snow is lying) with the promise of refreshment before exhaustion point is reached!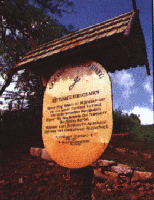 Many of the inns are impressive timber-framed houses. As in the case of the Hohe Warte for instance, they are often close to interesting ancient buildings. The walk that brings you to them will be way-marked, rarely (in the Ilmenau area) involving step gradients. You may well be following the route of a gentle uphill pumping channel for the water-powered machinery of the ancient mining industry.

You may also be going in the footsteps of Goethe, whose 28 visits to Ilmenau were occasioned by both business and pleasure. Charged by his patron, Karl August, Grand Duke of Sachsen-Weimar, to bring new life into Ilmenau's mining industry and new order into its taxation system, Goethe also found expression for his other interests here. Readers of John le Carré's 'Absolute Friends' will know of the Goethehäuschen. Today, it is lit by solar technology. A walk to read the multilingual versions of the 'Wanderers Nachtlied' on the walls of of the wooden lodge can be long or short; one short route can be managed in a wheel chair with assistance. Winter or summer, you will be spellbound by the woodland air, the ancient rocks and the lyrical words that link the hush of evening with the rest attained by all of life.

Those who are pursuing an interest in Celtic settlements could well start in this area, for in the Schiefergebirge (slate hills) of Thüringen there are whetstones madeby the Celts, who recognised the benefits of the geological composition of the greywacke. Settlement in the Ilmkreis goes back about 4000 years and we will gladly work out a trail for you around the many traces of the Celts of and even earlier peoples.

Follow the links for some of the routes on which we'd be happy to set your feet or find you accommodation, and this one for a suggested holiday in June 2005 which includes much about the local geology and its fascination for Goethe


Cycling



Thüringen has an enlightened policy of allowing bikes to go free on train-rides.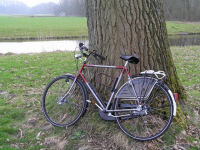 It also has people working hard on the development of cycle-routes, so that there are ever fewer points where cycles are sharing scenic roads with other traffic. You can bring your own bike or hire here. If you are in Ilmenau on May 1st, join the annual family bike ride down the valley of the Ilm and gently back again after a happy afternoon as groups converge on Kranichfeld from several directions for refreshments and entertainment.

Mountain biking is a sport with a number of local aficionados. Special routes are being planned to help them increase their numbers without any inconvenience to walkers. We will help you find a bike for hire, places to visit and accommodation en route. Watch this space for our cycling holiday-package.


Water for Health



The industrial and political development of Germany brought wealth in the 19th and early 20th centuries, health spas became fashionable. Ilmenau itself became a recognised spa (it fulfilled the rules about the mineral content of the "waters" taken by the visitor). Some springs had been discovered even in Goethe's time. Many of those around Elgersburg and Ilmenau were named in honour of women who came as guests: for instance, the Marien-, Christianen- oder Carolinen-Quelle springs.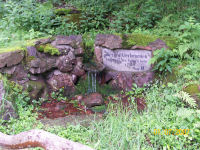 Even today, many villas, lovingly restored in turn-of-the-century style, grace the roads of Ilmenau and its surrounding villages. The "Panoramaweg" is an evocative woodland promenade where one strolls (or cycles) with the same health-giving air to breathe as first brought the Marys and Carolines here.

There is "water for health" in the springs and in the Kneipp baths for arms or legs, simply available on your woodland walk.

Thüringen also has many thermal pools with ultra-modern facilities. Children find areas to shoot down chutes while parents make use of massage jets to ease aching muscles or renew their energy.

... more


Herb lore, flora and fauna



If you come at the right time of year, you will see at least some of the plants and animals that are benefitting from East Germany's careful efforts to preserve natural habitats. The burst of new building after the Wall came down has coincided with a real concern for the environment. When the new motorway A71 was built, there were strict "taboo" notices preventing any workers or machinery straying beyond the narrow swathe near Heyda, and Tengmalm's owl nested again the following year within a kilometre. Write to us if your interests are ornithological or botanical.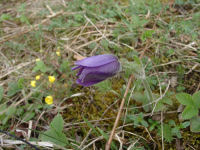 There are, for instance, rare orchids to which we can lead those who appreciate how important it is not to disturb them.

In the autumn, our weekends will include a fungus foray and the chance to taste local dishes incorporating wild mushrooms.

Local foresters will take interested (and patient) visitors on walks to observe the game in our forests. Sadly, the capercaillie which Goethe's patron happily hunted, has long retired to yet more remote hills.


Sightseeing



Everyone knows of Goethe, Germany's most celebrated dramatist, but not that he is one of the famous reasons to visit Ilmenau. Here are buildings he frequented: the Amtshaus, the Alter Försterei and the Jagdhaus Gabelbach. Others reflect the social development of the town from the industrialisation of the 19th century to the turbulence of the 20th, through two world wars, nearly half a century of Communism, the fall of the Berlin Wall and the urban renewal which followed. Goethe's scientific works are met in the Stützerbach Goethe building as well as the hunting lodge called Jagdhaus Gabelbach.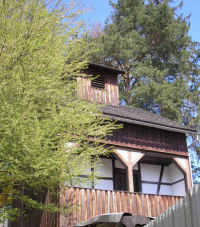 Less imposing but fascinating for their insight into the radical social changes of Ilmenau are the miners' chapel, the "Luthersteufe" mining museum, the glassblowers' workshop and the Old Mint, which in the 17th century made use of "spare" ore from the mines to produce the "Ausbeutetaler" coins treasured by numismatists. In the 18th-century Church of St. Jakobus (St. James), a glass-tiled floor section reveals the 13th century foundations of the original building. For sightseeing of another kind, there is a nature reserve around the five large ponds near the University - the small zoo is an attraction to children; for nature-lovers, the flora and fauna are fascinating. Many plants on Germany's Red List are found here.

Further afield, there are the larger, more obvious tourism destinations of Arnstadt, Erfurt and Weimar. They are near enough to visit on a half-day's outing, but we think you should come first to discover some of the hidden treasures of Thüringen in the relaxing, stimulating atmosphere of Ilmenau!


Shopping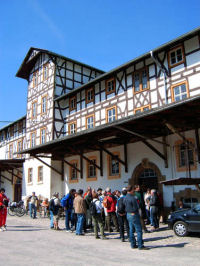 Most people away from home like to browse through shops and markets at least long enough to purchase the odd souvenir, so we always leave some time for this in our agendas.

Whether calling in the gift shops along your way, stopping by an information booth in Ilmenau and surroundings or while taking an actual afternoon shopping excursion to Erfurt, you will find that Thüringen offers everything in the way of mementoes to help you preserve your memories, or to savour again the flavours of food (and drink...) that you have enjoyed here!


Local specialities you might like to take home with you include:

Goethe´s writings in the form of postcards, posters or books with photos
"Ziegenbock und seine Frau" figurines from Ilmenau
"Deutscher Senf" (German mustard): this speciality is available in several flavours, best bought on a visit to the mustard mill itself
Chocolate, chocolates and gummy bears
All natural herbal teas and spices from locally harvested sources
Glass and porcelain products, both decorative and useful, and possible to observe in the making
Speciality German beers, schnapps and brandy of all sorts and wines ranging from the dry Dornfelder reds to the sparkling white named after Red Riding Hood
Here is a link to the customs guidelines for the UK. Please note that such guidelines tend to change, when in doubt about those for your home country, please check with local authorities.